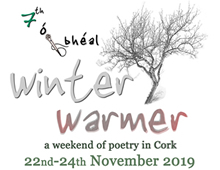 Ó Bheal in association with The Kino presents
the 7th Ó Bhéal Winter Warmer Weekend Festival of Poetry
22nd-24th November
At Ó Bhéal's seventh Winter Warmer festival weekend twenty-three poets from seven countries will feature on Friday 22nd and Saturday 23rd in the ever-iconic and evolving arthouse cinema and music venue, The Kino (Washington Street). There will also be a closed-mic set for ten local poets.
This year's line-up includes Liz Berry, Aifric Mac Aodha, Trevor Joyce, Yolanda Castaño, Gabriel Rosenstock, Zsuzsa Emese Csobánka, Ciara Ní É, Amanda Bell, Anne Frater and Danielle McLaughlin and local trio Dourga blending music, song and spoken word on Friday evening. Saturday afternoon will feature international poetry-films curated and presented by multi-award winning Australian filmmaker Marie Craven, plus a selection from Ó Bhéal's Poetry-Film competition. Marie will also lead a poetry-film workshop and discussion on the Friday afternoon.
Events on Sunday 24th take place at Ó Bhéal's home in The Hayloft Bar (Winthrop St), with an exciting Many Tongues of Cork event presented by Joanna Dukkupati, featuring writers from numerous Immigrant communities in Cork.
All events are free, with a €5 suggested donation.